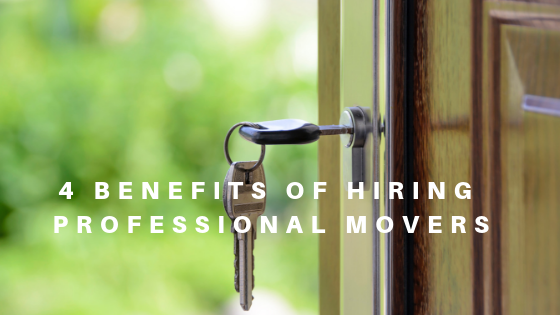 01/02/2019 by King Removals 0 Comments
4 Benefits Of Hiring Professional Movers
Here at King Removals, we understand that moving can be extremely exciting, but a very stressful, time of your life. Often when households are planning a move, the question of whether or not you can do it all yourself or if you should hire a professional moving company always arises. Here are four reasons why hiring professionals, such as King Removals for domestic removals in London, is a great idea.
1. Can help to combat stressMoving can be incredibly stressful, as we have already mentioned, as carrying boxes and furniture in and out of your home throughout the day will take its toll on your energy levels. When you work with professional moving companies like King Removals, they take some of the stress off by knowing that if a problem should arise these people are there to help you solve it in any way possible.
2. No heavy lifting As well as being difficult, moving large furniture alone can be very dangerous - which is why hiring professional movers is often safer for both yourself and your belongings. By working with house removal professionals in London, they will eliminate the need for you to do the heavy lifting, reducing the risk of injury and helping you save your strength for the unpacking process. They also understand how to deal with heavy, awkwardly shaped, and fragile items, greatly reducing the risk of damage and breakage occurring during the moving process.
3. You will save timeWhen working with professional movers, you are guaranteed to be saving time on your relocation. They can easily do the tasks like securing boxes and packaging up each room for you, offering exceptional packaging and storage services so that they can deal with everything easily. Some of these solutions include the use of hoisting straps, ramps and custom built trucks with air ride cushions to transport your belongings in a safe and secure manner.
4. Friendly customer serviceBeing trained professionals, these movers, in addition to providing you with the necessary services, also possess an impeccable customer service rating. For example, here at King Removals, our entire team have a wealth of experience in their field of work, being fully trained as well as fully insured. No matter whether you are moving home or office, our staff has the skills and expertise to make your move as smooth as possible. As a business, we specialise in home removals, house clearances and domestic cleaning solutions. In the rare occasion that something goes wrong, we are fully insured up to £90,000 for removals in the UK. We can also arrange additional cover if your belongings are valued above that amount.
If you are interested in our house removals services in London, the King Removals website is where you need to be. To have a chat with a member of our second-to-none team, please feel free to give us a call on 0208 935 57 87. Alternatively, complete the contact form on our website and someone will get back to you as soon as possible.
Feed