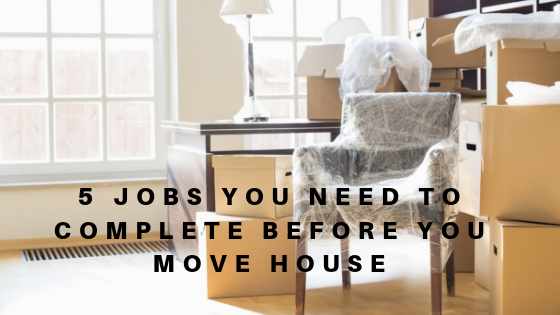 30/05/2019 by King Removals 0 Comments
5 Jobs You Need To Complete Before You Move House
As I'm sure you know, moving is a very stressful experience. The organisation stages are key to having a smooth transition into your new property, so it is important to have a checklist to work from in place. In order to save you the hassle of putting this together, the dedicated team at King Removals have put together the main tasks you have to get done before you close the door on your old home for the last time.
Create a moving budget
Moving is going to cost you money no matter how much you try to cut back, so the best thing to do is to figure out exactly how much you'll be spending so then you can see where you might be able to cut costs. You need to ensure you are able to control your moving expenses, ensuring that everything that needs to be taken care of is completely sorted.
Find a reputable removal company
Hiring the services of a reputable and affordable removal company should always be at the top of your list. Having a company's services, such as King Removals, already in place will provide you with the peace of mind that the main bulk of your move is taken of. On the day of the move, they will take some of the stress away from you as if a problem does arise, the team would be there to help you solve it in any way possible.
Finish Your Packing
Although your removal company can help you with the last minute packing, if you get as much packing as possible done beforehand - it will make the entire experience much less stressful. If you know several weeks in advance that you're moving, start filling boxes with the things you won't need before your move. Spending an hour each day sorting through your stuff and packing will make the whole transition a lot smoother.
Notify utility companies and insurance providers
You need to make sure that you inform your utility company and insurance providers of the date of your move as soon as possible. This would allow them to discontinue your services at your current address. For example, with electricity and gas, it can take up to 48 hours for your energy provider to update your information, so make sure you do this well in advance of your move.
Forward Your Post
Before you move your house, you need to ensure you have informed Royal Mail and organise a mail redirection service to forward mail to your new home. This can be done online or through your local Post Office branch. This is very important, as it will ensure that you continue to receive your mail when you move home and prevent personal details falling into the wrong hands - which could result in you becoming a victim of fraud. No matter whether the moving day is in a few days, weeks, or even a few months, make sure you organise your plan and cross these important items off your to-do list.If you would like to find out more about the house removals services in London, the King Removals website is where you need to be. To have a chat with a member of our second-to-none team, please feel free to give us a call on 0208 935 57 87. You could also complete the contact form on our website and someone will get back to you as soon as possible.
Feed